Det Bränns – about the Stinging Nettle
Urtica dioica
Groups and organisations
Sällskapen Nellorna, har bland annat gjort boken "Brännässla – En älskad kulturväxt", anordnar Nässlans dag och driver en facebookgrupp
Norskt projekt "Fra plante til plagg" https://www.nesle.no/blog
http://www.nettlesfortextiles.org.uk sida med bl a annat massor av filmer om nässelberedning.
"This site is a repository of all things nettle related, especially the sharing of skills and techniques that will help us best utilise this incredible resource for local textile production."
Gustav Bredeman (1880–1960) "was a German agricultural scientist and botanist. He is considered a pioneer of nettle research." (Wikipedia, de)
John-Paul Flintoff – författare som gjorde kalsonger av nässlor (!).
Second skin: why wearing nettles is the next big thing  – artikel av John-Paul Flintoff i The Ecologist 2009. (eng)
Textile
"Nettles are the fibre of the landless."
Video with Alan Brown that takes nettle plants through, in order to extract a usable fibre for textiles. (eng)
Rep av nässelfiber direkt i skogen video  "Make Natural Cordage in Minutes". (eng)
Kan nättelsduk komma av nässla? https://brittakarolina.com/2012/11/26/nattelduk-bomull-och-nassla/  (sv)
Pangaia – innovativt företag som gör bl a jeans med en blandning av bomull, hampa och nässlor. Jeansen har sålts på varuhuset Selfridges i England. (eng)
Finsk textilproduktion baserad på nässlor www.knokkon.com
NFC GmbH Nettle Fibre Company, hampa och nässelfiber i Tyskland nettle-fibre-company.com/en/
VintageStyleStudio, Ukraina,  säljer antika tyger mm på Etsy.
AppleoakFibreWorks, Irland säljer tyger och garner med 100% nässla från Nepal.
"The Nepalian nettle, Girardinia diversifolia, grows up to 3m tall. There, the Nepalese still harvest and peel the nettle by hand, then it is placed in a semi boiling wood ash bath over night, which is used later for fertilizing the fields. The next day, the loosened fibers are beaten across a stone several times and rubbed with clay to loosen the remaining plant debris."
Nettle as food and medicin
"To Eat Raw Stinging Nettles" en 13 min lång film om nässlans förträfflighet efter 8 min tips på hur du kan göra för att äta den rå. (eng)
Livsmedelsverkets lista på näringsrikast grönsaker, nässlan på delad förstaplats. (sv)
Utförligare analys livsmedelsverket_10_gronsaker_och_rotfrukter_analys_av_naringsamnen.pdf (sv)
Näringsvärde, förvällda nässlor enligt livsmedelsverket  (för låga siffror hävdar några) (sv)
Om nässlan från Örtsällskapet som mat, medicin m.m. (sv)
Video med Matti Veijola, finsk bonde i norra Finland som odlar nässlor som mat – Nokkosen viljely. Förväller (enligt egen hemlig metod) och torkar hela plantor för bästa resultat, då behåller de den gröna färgen och luktar fräschare jämfört med importerat nässelpulver, enligt Matti. (fin)
Marthaförbundet om nässlor på svenska https://www.martha.fi/vardagskunskap/kortkurs-plocka-nasslor (sv)
Martat fröknäcke med nässlor (fin).
Nettle ice! https://www.folketspops.se/product-page/nettle-pink-lemonade
Nässelchips https://undertian.com/recept/nasselchips/ (sv)
Nettle crisps https://www.foragingcoursecompany.co.uk/post/recipes-nettle-crisps (eng)
På Tanttulundens pizza
Allra vanligaste användningen av nässla hoss oss är nässla på pizzan. Ena varianten är att vi mixar en nässelpesto av rapsolja, nässlor, ramslök eller vitlök, ev solrosfrön och salt. Men oftast plockar vi bara topparna, svänger runt i olja och salt (som nässelchips) och lägger dem allra överst på pizzan.
Food for other plants
nässelvatten https://gronarader.se/tradgard/nasselvatten/ (sv)
nettle watter https://www.sarabackmo.com/fertilize-with-nettle-water/ (eng)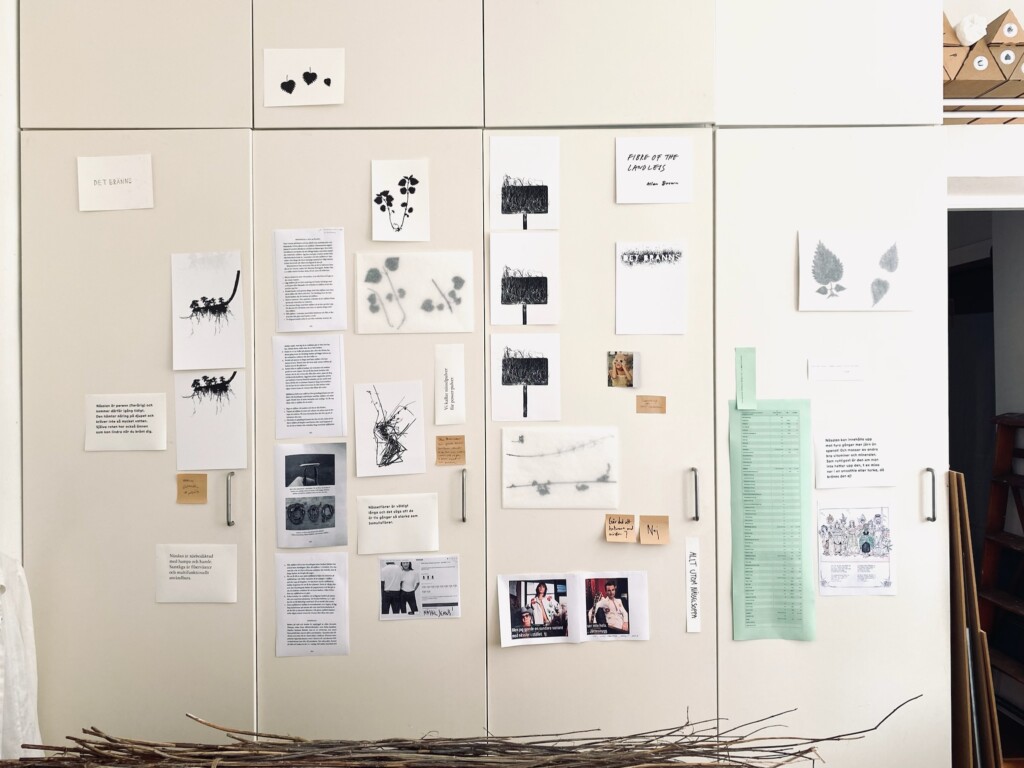 Wikipedia Urtica dioica   Brännässla