Today it's the first of December and the new year begins in a month. So it's really time to say more about urbnCal 2012! We started with Stockholm 2010, then Copenhagen, and 2012 it is Helsinki!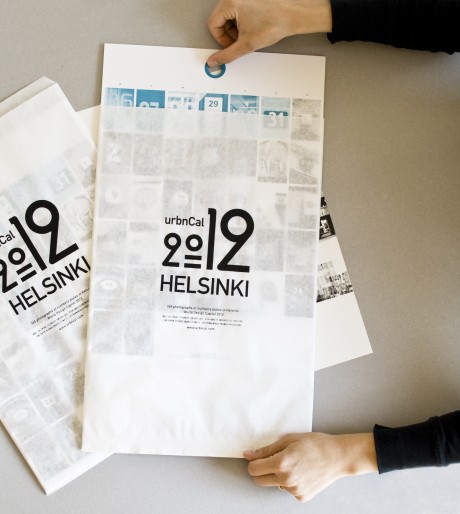 How long does it take to make the calendar?
The first part is "collecting" all the numbers. We spend about a week biking around the city, one area at the time, shooting pictures. We take turns, one of us is playing with the kids and the other is taking photos.
During the evening when the kids are asleep we go through the days harvest and name the pictures by street address and file them in folders, one for each month.
The next step is to adjust the photographes and place them in Indesign, our lay out-program. We check so the pictures work well together and crop them. This is usually when we have to kill our darlings or at least crop our darlings.
How did the idea come about?
We had the idea for a few years before we had the courage to try it in the summer/fall of 2009. We didn't know if we could complete it or if it was too big a task and who would like to sell the calendar. One inspiration for the calendar was an earlier idea to make congratulation cards out of numbers plates. We have an interest for everyday details.
Why is it called urbnCal?
urbnCal stands for urban calendar. The idea from the beginning was to photograph many cities and compare the graphic impression of the numbers plates in different countries. We also needed a nice web address (url) because we wanted to publish the picture on the web, link to a map and get feed back etc. Maybe the calendar will get more of a digital life in the future?
There is no room for notes, how should I use the calendar?
The wall calendar is intended as a visual complement to a pocket diary or digital calendar. We see it more as a poster with a function. But there is some room if you really want to make notes, maybe with a golden pen.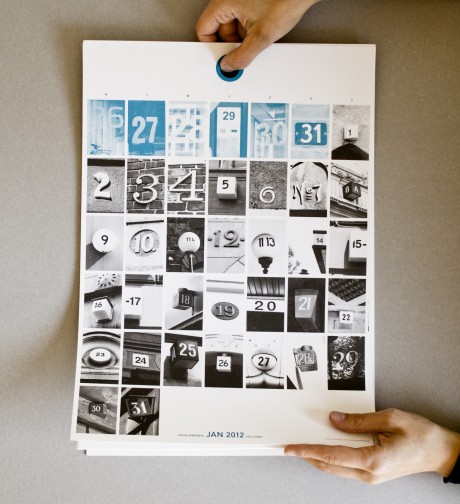 Tech spec:
• 12 sheets (jan-dec) + 1 sheet with a list of all street addresses.
• High quality uncoated FSC-certified paper in three shade of white. (Munken Rough,170 g/m2)
• Format: A3 (11,7×16,5 in) with a 20 mm (0,8 in) hole for hanging.
• 2 colors: black & white photographs + colored details
• Packing: paper bag with handprinted logo
• Edition: 500
You can find it att Etsy, supermarket, Signerat…
and here you find more retailers
Which city is next?
We haven't decided on the next city yet, but we are thinking of a Scandinavian calendar, reuse some numbers and get some new in Oslo, maby Reykjavik as well. If you have any suggestions feel free to contact us!